Have my lines been marked?
Contacting Georgia 811 will begin the process where Georgia 811 will contact our members that own utility facilities in your area to notify them of your intentions to dig. Those members will then send out a utility locate technician to locate public utilities owned by that member on your property. They will only locate public utilities and not private utilities, as private utilities are the responsibility of the property owner. To understand the difference between public and private utilities, click here for more information.
To help determine if your lines have been marked, Georgia 811 provides a service called the Positive Response Information System (PRIS) to help you track the status of your locate request. Simply follow the instructions below. A status window will appear on your screen. If any line has not been marked by the afternoon of your locate date, please call Georgia 811 at 811, 1-800-282-7411 or 770-623-4344.
Click Here for a list of Positive Response codes.
Online Instructions for Excavators:
Click Here to access the Georgia 811 ticketing system.

At the top menu bar of the ticketing system, click on "View Ticket Responses (PRIS)" to open the ticket search menu.
Ticket Number:

Enter the Ticket Number of the ticket that you want to display.

The associated ticket information along with member responses will automatically display on the right.
In the toolbar at the top of the display window, you will have the following options:


Print – Print the ticket shown on the screen.
Show Map – View the dig site area as drawn on the ticket.
Color code guide
When utility company representatives mark a location, they use colored flags and/or paint to identify the type of underground utility. Here is what the color codes indicate:
APWA Uniform Color Guide for flags and marks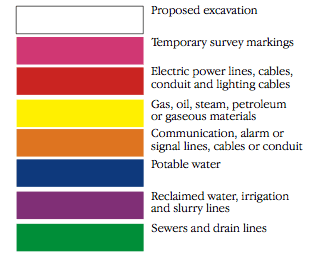 For an interactive diagram of these markings with our interactive house, click here.