April: Safe Digging Month
---
Celebrate April as Safe Digging Month! Below are resources to be used by stakeholders to share the importance of safe digging. For questions or to share additional ideas please contact
mestes@georgia811.com
.

To celebrate Safe Digging Month, Georgia 811 will have TWO giveaways that run from April 1st to April 30th. Our Go Fishing With Flukemaster giveaway will give one lucky winner a trip to go fishing with YouTube star Gene Jensen a.k.a. Flukemaster. We will also be doing a Lowe's Gift Card Giveaway where FOUR lucky winners will receive a $250 Lowe's gift card. Make sure you enter both giveaways!

For over a decade, the sitting Governor of Georgia has declared April as Safe Digging Month. To view Gov. Kemp's 2019 proclamation, click here.
To learn more about 811, click here for an article about How it Works or select the Media Fact Sheet.
To share safe digging PSAs and DIY instructional digging videos, visit the Georgia 811 YouTube page.
View the Life of a Locate Request Infographic, click here.
Social Media Messages, click here.
Graphics and Text for you to share on your website, click here.
City/County Proclamation of April being Safe Digging Month click here

Includes tips on securing a Proclamation, examples of City/County Proclamations and Sample Proclamation Text.
Por español, clic aqui.
---
Banner: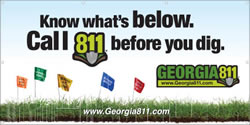 Yard Sign: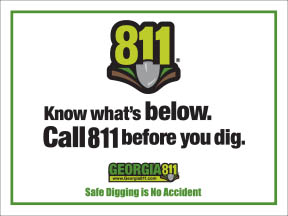 Order Your FREE Banner or
Yard Sign for Safe Digging Month

The banner is available in two sizes: 8′ wide x 4′ tall
Or 4′ wide x 2′ tall

Banners come with grommets

NEW SIZE Yard Sign 24" wide x 18" tall



Order banners and yard signs from our Product Catalog: Order banners, signs, and decals

The only requirement to get your free banner or yard sign is to take a picture of it once it is up
and email it along with where it is posted to Maria Copeland
before the end of April.

---
Safe Digging Partner Decals
Order your Safe Digging Partner decal today. Two sizes to select from, 6 inch and 12 inch round. Perfect for fleet vehicles and large equipment.
Just let your Georgia 811 Liaison Manager know how many you need or order them from our online Product Catalog.

---
The History Of Georgia 811
Do you have gas?