Positive Response (PRIS)
Georgia 811 provides a service called the Positive Response Information System (PRIS) to help you track the status of your locate request. Simply follow the instructions below. A status window will appear on your screen.
Positive Response may be accessed on the Georgia 811 Mobile App and online.
App Instructions: You can download the EDEN application to access PRIS on your Android phone by clicking here, on your iPhone by clicking here, or your iPad by clicking here.

Online Instructions for Excavators:
1.    Click Here to view the responses for your locate request.
2.    Type in the locate request number – as shown above.
3.    Click Load Ticket.
4.    Scroll to bottom of page to view the status of your request.
5.    Hit "View Ticket Text" button to view & print out locate request.
Members click here for instructions about logging in to enter PRIS codes to your locate requests
Click Here for a list of Positive Response codes.
Locate Request Number Layout (Date is 10/15/2002):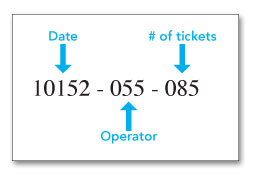 Color code guide
When utility company representatives mark a location, they use colored flags and/or paint to identify the type of underground utility. Here is what the color codes indicate:
APWA Uniform Color Guide for flags and marks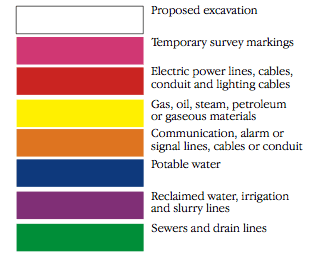 For an interactive diagram of these markings with our interactive house, click here.