Safe Digging Procedures
As you plan exterior improvements to your home and property that may involve digging, please consider the following information. It will help keep you safe, in compliance with Georgia State law, and help you avoid utility service interruptions and costly repairs.
• Make the FREE call to Georgia 811 by dialing 8-1-1 or 1-800-282-7411 at least three business days, but no more than 10 working days (excluding weekends and legal holidays), before beginning any mechanized digging project on your property. Even if the project does not require mechanized digging, it is recommended that you contact the Georgia 811 to ensure your safety and the safety of those around you. For your convenience, Georgia 811 accepts calls Monday thru Friday from 7 am to 6 pm, excluding holidays, for normal locate requests. Damage and Emergency locate request may be called in 24 hours a day, seven days a week. For a complete list of holidays, click here.
• It is important that you provide the following information when you notify us:
– Contractor/contact person and phone number.
– Where on the property you want marking done.
– Specific directions to your property – landmarks, etc.
– Name, area code, phone number, address, city, county and nearest cross streets.
– Type of work to be done and how long it will take.
– Date and time digging is scheduled to begin.
– If any work will be done within 10 ft. of overhead high voltage power lines.
• Outline the area in which you plan to dig with white paint or flags.
• During your call, Georgia 811 will give you a "locate request" number. This locate request is the official notification of your request and is immediately sent to all of our utility members in your area. Once they have been notified, they have 48 hours from the next business day (provided you call before 4:30 pm) to have a professional locator mark any underground lines they have in the proposed excavation area.
• Anytime during this process, you may track the progress of utility members and locators who are responding to your locate request, through the Ticket Response system (PRIS). To do this, click here, then click on View Ticket Responses (PRIS) in the top left and enter your locate request number on the following page. To make sure all lines are marked, a final check on PRIS should be done at noon on the legal date you were given. If you have any problems, conflicts or disputes with responses, please call us again so we can re-notify our members.
• Wait until lines are marked before digging. Once your property is marked, proceed with care, allowing at least a 18 inch buffer zone on either side of the outer edge of the facility, per the illustration below.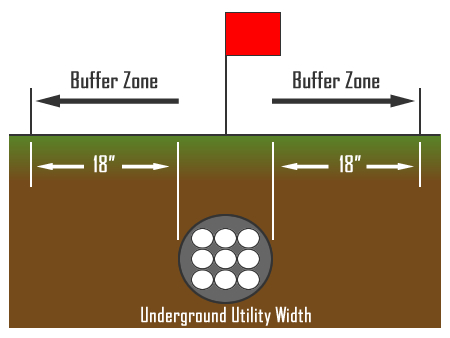 • Do not remove flags, stakes or paint marks until you are finished digging. If you must mow, cut around the flags, do not mow over them. Make sure pets and young children do not disrupt or remove markers.
• For information about Cross Bores, click here.